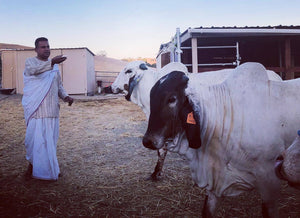 Established in 2020 by two friends, Sree and Hari, the Sri Surabhi Go Ksetra is a traditional goshala that represents the best of the Vaishnava tradition of Hinduism in the heart of the Bay Area.
A Sacred Calling
A.C Bhaktivedanta Swami Prabhupada, the founder of ISKCON, spoke extensively about the importance of traditional Hindu cow sanctuaries, known as goshalas, and directed his disciples to establish them around the world.
Sree, an engineer, and his friend Hari took up Srila Prabhupada's calling and founded the Sustainable Eco Alliance, a 501(c)(3) nonprofit dedicated to bringing Vedic culture to the Bay Area, and after five years of planning and preparation started the Sri Surabhi Go Ksetra in 2020.
A Growing Herd
Nestled on a three-acre farm in the gently rolling hills of Pleasanton, California, Sri Surabhi Go Ksetra has a herd of nine cows, three adorable calves, and a majestic bull named Giriraj. All the cows currently at the goshala are Gyr, a breed of cow indigenous to India and long revered for their gentle nature and nourishing milk.
Sri Surabhi Go Ksetra offers public visits, classes, AirBnB experiences, organic gardens, and traditional Hindu rituals.
Hindu culture has long revered cows as the embodiment of motherhood and selfless giving. Aside from operating the goshala, Sree and Hari are tireless advocates for "cow culture" and spearhead the annual Cow Culture Conference that has brought together organizations, dignitaries, politicians and spiritual leaders from around the world to advocate for the ethical treatment of cows and their contribution to human civilization.
A Vision For the Future
Though they have already hosted hundreds of visitors at their goshala, Sree and Hari have bigger plans for the future. They want to bring the ethical and sustainable practices of the Vedic tradition to dairy farmers across the United States.
Under the Vedic model the care, welfare and happiness of the animal comes first. Cattle, including bulls and bull calves, are never sent to slaughter, calves are never separate from their mothers, and cows are milked by hand only after their calves have had their fill. 
The team at Sri Surabhi Go Ksetra works with dairy farmers and goshala operators across North America to assist them in aligning to ethical care and breeding practices rather than those used by the factory farm system.
Every purchase made through AGHORI goes towards supporting the cows at Sri Surabhi Go Ksetra and other affiliated goshalas under our BUY ONE, FEED ONE program. The important work they do contributes to a more ethical and sustainable world for us all.