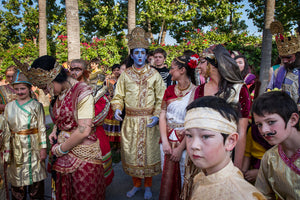 A Holistic Approach to Education
Nestled high in the redwood covered hills overlooking Monterey Bay, the Mount Madonna School (MMS) has been a beacon of community and compassion for over 40 years. MMS focuses on "whole child development" by combining academic excellence with creative self-expression and outdoor learning to offer a completely unique educational experience.
100% of the profits for the products featured below go towards supporting and sustaining the Mount Madonna School.
The OUTDOOR CLASSROOM
Mount Madonna School's natural environment set on 375 stunning acres is an extension of the classroom. This "outdoor classroom" provides opportunities for exploration, observation, imagination and reflection inspired by the surrounding ecology of the redwood forests, oak trees, life lab gardens, ponds, meadows and rocks. Whether grinding sandstone rocks at recess, hiking with big buddies to the newt and duck ponds or simply watching the various migratory birds that visit the lake area bus stop, students' daily life and classroom lessons help them achieve important eco-literate citizenship goals.
Whole Child Development
Mount Madonna School is committed to educating the whole child to prepare her/him for a life of meaning and success. The core of the curriculum is academic excellence, creative self-expression and positive character development.
One of Mount Madonna School's most cherished traditions is its annual musical production of the ancient Hindu epic, the Ramayana, now in its 43rd year (the longest running Ramayana performance in the Western hemisphere!). It features a cast of nearly 200 student performers, from preschool through high school, accompanied by a choir and adult musicians. A universal story of love, adventure, separation and an eventual joyous reunion, the show is filled with exciting action, exquisite costumes, family humor and original live music.
MMS Kids Collection (Ages: 1-5)
MMS Youth Collection (Ages: 6-18)